.xn--90ae TLD DNSSEC Outage: 2020-03-24
Date: March 24, 2020
Overview
This page gives some details on the .xn--90ae TLD DNSSEC outage on March 24, 2020. This is an IDN TLD.
Timeline / DNSViz
2020-03-24 04:14:14 UTC — RRSIGs expire, according to DNSViz
2020-03-24 04:15:55 UTC — first personally observed DNSSEC failure
2020-03-24 12:03:21 UTC — expired RRSIGs
2020-03-24 15:13:24 UTC — last personally observed DNSSEC failure
Here's a screenshot, since DNSViz loses (or deletes) its archives: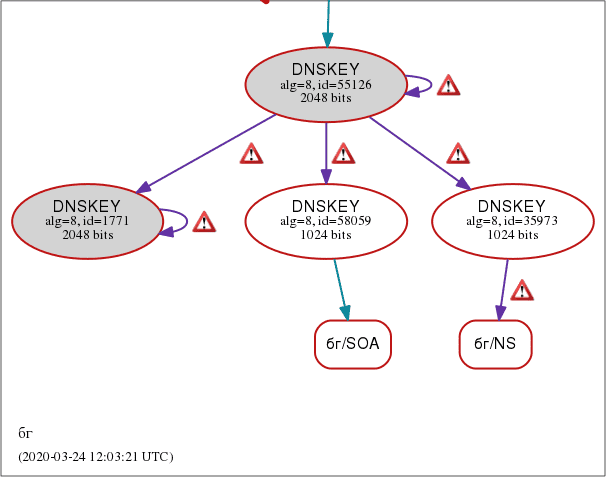 Thankfully, archive.is made a copy of the DNSViz output.
Additionally there's an archive.org copy.
Logfile examples
[1585023355] unbound[28019:0] info: validation failure : signature expired from 193.68.99.99 for key xn--90ae. while building chain of trust
[1585023574] unbound[28019:0] info: validation failure : signature expired from 193.68.3.232 for key xn--90ae. while building chain of trust
[1585023874] unbound[28019:0] info: validation failure : signature expired from 204.61.216.110 for key xn--90ae. while building chain of trust
[1585024126] unbound[28019:0] info: validation failure : signature expired from 185.143.80.1 for key xn--90ae. while building chain of trust
[1585024834] unbound[28019:0] info: validation failure : signature expired from 192.92.129.99 for key xn--90ae. while building chain of trust
[1585027139] unbound[28019:0] info: validation failure : signature expired from 194.0.32.1 for key xn--90ae. while building chain of trust