.ke (Kenya) DNSSEC Outage: December 12, 2016
Updated: December 16, 2016
Overview
This page gives some details on the .ke TLD DNSSEC outage on December 16, 2016. It was not the first DNSSEC outage for Kenya.
Timeline / DNSViz
DNSSEC Debugger
Unlike DNSViz, Verisign's DNSSEC Debugger doesn't archive results, so here's a screenshot of my web browser's output from December 16, 2016: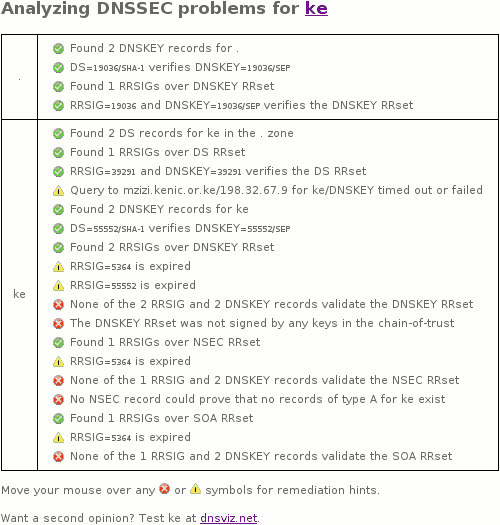 OpenDNS & Google Public DNS
OpenDNS does not support DNSSEC, instead supporting DNSCurve. Google Public DNS currently supports only DNSSEC, and thus, Google's users saw SERVFAIL for queries under .ke during this outage.
With OpenDNS, without DNSSEC, DNS works:
$ dig +dnssec google.co.ke. @resolver1.opendns.com.
; <<>> DiG 9.4.2-P2 <<>> +dnssec google.co.ke. @resolver1.opendns.com.
;; global options: printcmd
;; Got answer:
;; ->>HEADER<<- opcode: QUERY, status: NOERROR, id: 30035
;; flags: qr rd ra; QUERY: 1, ANSWER: 1, AUTHORITY: 0, ADDITIONAL: 1
;; OPT PSEUDOSECTION:
; EDNS: version: 0, flags:; udp: 4096
;; QUESTION SECTION:
;google.co.ke. IN A
;; ANSWER SECTION:
google.co.ke. 300 IN A 216.58.192.3
;; Query time: 8 msec
;; SERVER: 208.67.222.222#53(208.67.222.222)
;; WHEN: Fri Dec 16 03:41:49 2016
;; MSG SIZE rcvd: 57
---
With Google Public DNS, because of DNSSEC, queries fail:
$ dig +dnssec google.co.ke. @8.8.8.8
; <<>> DiG 9.4.2-P2 <<>> +dnssec google.co.ke. @8.8.8.8
;; global options: printcmd
;; Got answer:
;; ->>HEADER<<- opcode: QUERY, status: SERVFAIL, id: 20032
;; flags: qr rd ra; QUERY: 1, ANSWER: 0, AUTHORITY: 0, ADDITIONAL: 1
;; OPT PSEUDOSECTION:
; EDNS: version: 0, flags: do; udp: 512
;; QUESTION SECTION:
;google.co.ke. IN A
;; Query time: 9 msec
;; SERVER: 8.8.8.8#53(8.8.8.8)
;; WHEN: Fri Dec 16 03:41:49 2016
;; MSG SIZE rcvd: 41
dnscheck
Zonemaster
Logfile examples
[1481860889] unbound[11079:0] info: validation failure <ke. NS IN>: signature expired from 185.38.108.108 for key ke. while building chain of trust
[1481861070] unbound[11079:0] info: validation failure <google.co.ke. A IN>: signature expired from 198.32.67.9 for key ke. while building chain of trust