fashion partial DNSSEC Outage: 2014-12-07
Date: December 7, 2014
Overview
This page gives some details on the fashion TLD partial DNSSEC outage of December 7, 2014. The outage was partial, affecting some deployments but not all. My unbound resolver was unaffected, while e.g. Google Public DNS (the Internet's biggest DNSSEC deployment) failed. Root problem: fashion is delegated to nic.fashion nameservers, and nic.fashion had a DNSSEC outage.
Timeline
Verisign's DNSSEC Debugger
Verisign showed fashion to be okay. Here's a screenshot I took of the nic.fashion DNSSEC Debugger output: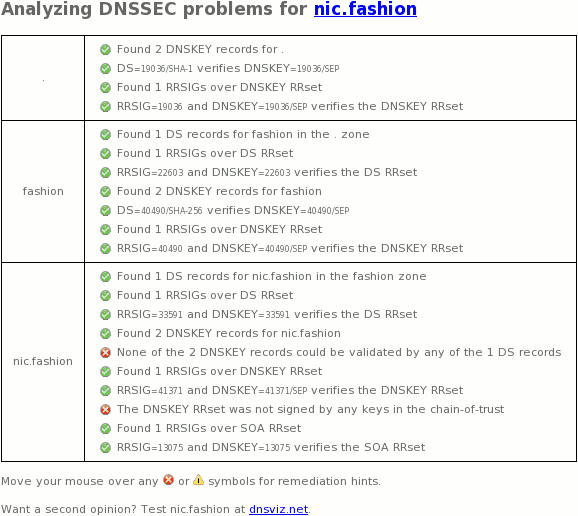 OpenDNS vs. Google Public DNS
While Google Public DNS supports DNSSEC, OpenDNS supports the superior DNSCurve, which is (among other advantages) immune to DNSSEC failures. During this outage, Google failed to resolve names under fashion while OpenDNS worked normally.
With OpenDNS, queries succeed:
$ dig whois.nic.fashion. @resolver1.opendns.com
; <<>> DiG 9.4.2-P2 <<>> whois.nic.fashion. @resolver1.opendns.com
;; global options: printcmd
;; Got answer:
;; ->>HEADER<<- opcode: QUERY, status: NOERROR, id: 20397
;; flags: qr rd ra; QUERY: 1, ANSWER: 1, AUTHORITY: 0, ADDITIONAL: 0
;; QUESTION SECTION:
;whois.nic.fashion. IN A
;; ANSWER SECTION:
whois.nic.fashion. 100 IN A 217.112.159.143
;; Query time: 54 msec
;; SERVER: 208.67.222.222#53(208.67.222.222)
;; WHEN: Sun Dec 7 16:48:47 2014
;; MSG SIZE rcvd: 51
---
With Google Public DNS, queries fail:
$ dig whois.nic.fashion. @8.8.8.8
; <<>> DiG 9.4.2-P2 <<>> whois.nic.fashion. @8.8.8.8
;; global options: printcmd
;; Got answer:
;; ->>HEADER<<- opcode: QUERY, status: SERVFAIL, id: 16085
;; flags: qr rd ra; QUERY: 1, ANSWER: 0, AUTHORITY: 0, ADDITIONAL: 0
;; QUESTION SECTION:
;whois.nic.fashion. IN A
;; Query time: 165 msec
;; SERVER: 8.8.8.8#53(8.8.8.8)
;; WHEN: Sun Dec 7 16:48:13 2014
;; MSG SIZE rcvd: 35
Logfile examples
[1417986927] unbound[16007:0] info: validation failure <nic.fashion. A IN>: no keys have a DS with algorithm RSASHA256 from 72.0.50.28 for key nic.fashion. while building chain of trust
[1417992596] unbound[16007:0] info: validation failure <whois.nic.fashion. A IN>: no keys have a DS with algorithm RSASHA256 from 72.42.114.28 for key nic.fashion. while building chain of trust
[1417995925] unbound[21484:0] info: validation failure <da04f67f9f39cfc26.nic.fashion. A IN>: no keys have a DS with algorithm RSASHA256 from 72.42.114.28 for key nic.fashion. while building chain of trust
[1417995934] unbound[21484:0] info: validation failure <nic.fashion. NS IN>: key for validation nic.fashion. is marked as invalid because of a previous validation failure <da04f67f9f39cfc26.nic.fashion. A IN>: no keys have a DS with algorithm RSASHA256 from 72.42.114.28 for key nic.fashion. while building chain of trust