root-dnssec.org DNSSEC Outage: 2014-11-19
Updated: November 21, 2014
Overview
This page gives some details on the root-dnssec.org DNSSEC outage of November 18 to 19, 2014. It contains unbound logs, citations to DNSViz and dnscheck.iis.se.
Verisign's DNSSEC Debugger
Since Verisign doesn't archive outages, here's a screenshot I took on November 19, 2014: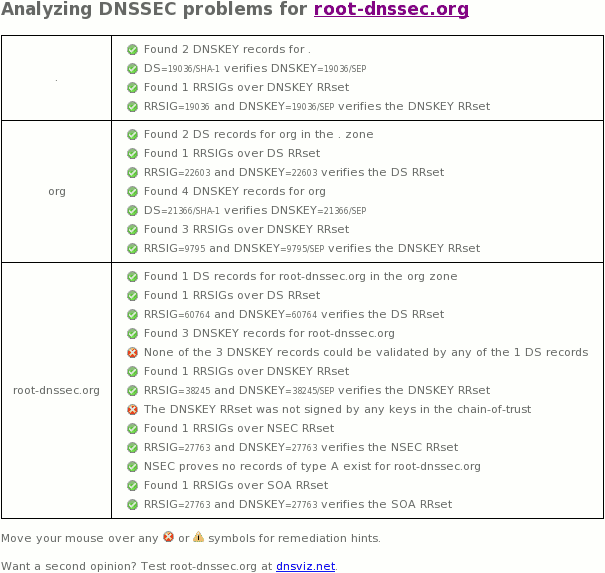 DNSViz
dnscheck.iis.se
The following link requires javascript, and shows some details about the outage: http://dnscheck.iis.se/?time=1416397831&id=4372617&view=basic&test=standard
OpenDNS vs. Google Public DNS
OpenDNS does not support DNSSEC, instead supporting DNSCurve. Google Public DNS currently supports only DNSSEC, and thus, Google's users could not resolve names under root-dnssec.org during this outage.
With OpenDNS, queries succeed:
$ drill -D www.root-dnssec.org @resolver1.opendns.com
;; ->>HEADER<<- opcode: QUERY, rcode: NOERROR, id: 12451
;; flags: qr rd ra ; QUERY: 1, ANSWER: 2, AUTHORITY: 0, ADDITIONAL: 0
;; QUESTION SECTION:
;; www.root-dnssec.org. IN A
;; ANSWER SECTION:
www.root-dnssec.org. 28800 IN CNAME wp.vip.icann.org.
wp.vip.icann.org. 30 IN A 192.0.32.23
;; AUTHORITY SECTION:
;; ADDITIONAL SECTION:
;; Query time: 109 msec
;; EDNS: version 0; flags: ; udp: 4096
;; SERVER: 208.67.222.222
;; WHEN: Wed Nov 19 11:49:52 2014
;; MSG SIZE rcvd: 91
---
With Google Public DNS, queries fail:
$ drill -D www.root-dnssec.org @8.8.8.8
;; ->>HEADER<<- opcode: QUERY, rcode: SERVFAIL, id: 32553
;; flags: qr rd ra ; QUERY: 1, ANSWER: 0, AUTHORITY: 0, ADDITIONAL: 0
;; QUESTION SECTION:
;; www.root-dnssec.org. IN A
;; ANSWER SECTION:
;; AUTHORITY SECTION:
;; ADDITIONAL SECTION:
;; Query time: 100 msec
;; EDNS: version 0; flags: do ; udp: 512
;; SERVER: 8.8.8.8
;; WHEN: Wed Nov 19 11:48:57 2014
;; MSG SIZE rcvd: 48
Log entries
[1416397407] unbound[6665:0] info: validation failure <root-dnssec.org. A IN>: no keys have a DS with algorithm RSASHA1 from 199.4.138.53 for key root-dnssec.org. while building chain of trust
[1416399790] unbound[6665:0] info: validation failure <www.root-dnssec.org. A IN>: no keys have a DS with algorithm RSASHA1 from 199.43.133.53 for key root-dnssec.org. while building chain of trust
[1416402071] unbound[6665:0] info: validation failure <root-dnssec.org. DNSKEY IN>: no keys have a DS with algorithm RSASHA1 from 199.43.134.53 for key root-dnssec.org. while building chain of trust
[1416403692] unbound[6665:0] info: validation failure <root-dnssec.org. TXT IN>: no keys have a DS with algorithm RSASHA1 from 199.43.132.53 for key root-dnssec.org. while building chain of trust
[1416441940] unbound[12974:0] info: validation failure <www.root-dnssec.org. A IN>: no keys have a DS with algorithm RSASHA1 from 199.43.133.53 for key root-dnssec.org. while building chain of trust
[1416442755] unbound[19465:0] info: validation failure <root-dnssec.org. A IN>: no keys have a DS with algorithm RSASHA1 from 199.4.138.53 for key root-dnssec.org. while building chain of trust
[1416446410] unbound[19465:0] info: validation failure <root-dnssec.org. NS IN>: no keys have a DS with algorithm RSASHA1 from 199.43.132.53 for key root-dnssec.org. while building chain of trust